I'm a big fan of doing a bulk meal prep of a few dishes at the beginning of the week. It streamlines your time in the kitchen, plus ensures you have a quick, healthy options available at all times. Bringing together a handful of delicious ingredients in this recipe for barley adds a new favorite to my rotation.
Salads are a traditional no-brained for the summer, yet I truly love eating a healthy, comforting salad any time of the year. No matter how crazy your day gets, a hearty salad is a perfect go-to option.
Choosing Comforting Ingredients
When I make new recipes, I start by focusing on lists of targeted ingredients. This recipe is chock-full of what I call my Comfort & Calm foods: barley, squash, walnuts, cheese, olive oil and antioxidants. I'd never actually had a recipe for barley salad before, but it my mouth started to water when I imagined it paired with the other ingredients,.
Each item is super 'sturdy,' so it's also a great on-the-run option to toss into your car or bag at the beginning of the day. You can dive-into lunch on the go or enjoy nibbles to keep you fueled during the day. (Doesn't everyone graze throughout the day like me? Ha Ha)
Flexible Recipe for Barley: Pre-Cook or Quick Build
It's so funny… I dreamed up this recipe quickly, but then took a day to actually make it. Sure, you can cook/prep all ingredients at one time and then compose the salad. Yet, I had a busy day and ended up cooking the barley in the morning, then roasting the butternut squash in the afternoon. Finally, I tossed the salad together for dinner.
That's just how my day flowed and it was nice to have a recipe that could work with my small windows for cooking.
Sure, it took me a day to build the salad. If you wanted to build the salad all at one time, it'll take about an hour total to prep, cook, cool and toss. Of course, there are multi-tasking windows there while the barley and squash are cooking, then cooling. Take it as an opportunity to hide in the kitchen with a good book, or plan a dance party with your kiddo… totally your call.
This is certainly a new favorite of mine! (I'm craving it as I type…) Looking forward to hearing your comments; please share below.
Print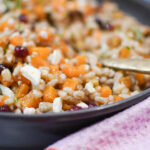 Ultimate Healthy Comfort: Recipe for Barley, Butternut Squash and Walnuts
Author:

Prep Time:

25

Cook Time:

30

Total Time:

55 minutes
---
BARLEY SALAD INGREDIENTS:
3 cups

cooked Pearl Barley

1 cup

roasted butternut squash (see ingredients and recipe, below)

1/3 cup

walnuts, chopped

1/3 cup

feta cheese crumbles (or vegan feta)

1/3 cup

pomegranate seeds

6 Tbsp

easy vinaigrette dressing (see ingredients and recipe, below)

1 tbsp

fresh oregano, chopped
ROASTED BUTTERNUT SQUASH INGREDIENTS:
1

small butternut squash, diced

1 Tbsp

olive oil

1 tsp

salt

1 tsp

pepper

1 tsp

garlic powder
EASY VINAIGRETTE DRESSING INGREDIENTS:
1/2 cup

olive oil

1/4 cup

champagne vinegar

1 tsp

garlic powder

1/2 tsp

salt

1/4 tsp

pepper
---
ROASTED BUTTERNUT SQUASH:
Preheat oven to 400 degrees
Dice small butternut squash into 1/2 inch pieces
coat with olive oil, salt, pepper and garlic powder
place on baking sheet and cook for 25-30 minutes till tender, but not soft
Remove from oven and let cool
EASY VINAIGRETTE DRESSING:
Mix olive oil, champagne vinegar, salt, pepper and garlic powder in a jar or small bowl
Set aside to dress the salad, to taste
Note – the recipe makes 10 tablespoons/5 servings, you'll use about 6 tablespoons for this salad. Save the remaining amount for a future salad.
PEARL BARLEY:
Cook the barley per package instructions (30 minutes for stovetop)
Let cool
BUILDING THE SALAD:
Add the cooked/cooled butternut squash & pearl barley to a large bowl
Mix-in the walnuts, feta and pomegranate seeds
Add the vinaigrette dressing, mix and season as needed to taste
Garnish with freshly chopped oregano
Serve the salad right away (cool/room temperature) or store in the refrigerator for up to 3-4 days.
---