Looking for recipes that check the box for your wellness goals, while also satisfying picky eaters in your home? I've got a favorite one for you… delicious, moist blueberry protein muffins that are chock-full of good-for-you ingredients. In a sense, the muffin is the Trojan horse for healthy ingredients; for your kids… yet, also for you.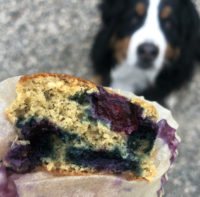 Foundation of a Healthy Muffin
Your choice of flour is a great way to ensure that you're building a healthier muffin. I call these 'Blueberry Protein Muffins' because they contain almond flour and protein powder.
I'll often call the flour source my 'foundation' of a baking recipe. This recipe uses two cups of foundational dry ingredients: oat flour, almond flour, and protein powder. You can try your own blend of foundational ingredients based on your needs. It can be 100% oat flour or whole wheat flour. Or, any blend that you like. I choose oat, almond, and protein powder because I like the comforting effects of oats, with the protein from the other ingredients.
Blueberry Protein Muffin Flavor Tweaks
Blueberries, chia and flax are the healthy heros that I choose to put in these muffins. Yet, you can get creative with your own ideas. Raspberries and dark chocolate would be delicious. Dark chocolate, dried cherries and walnuts is also yum.Basically, as long as you keep the ratios similar, you can swap-out whatever sounds best to you. If you or your kiddos have a particular favorite, it's a great way to lure picky eaters into trying a new recipe.
Simplify the Baking Process
I'll have to admit that I'm not traditionally a big baker. I LOVE cooking, but the precise measurement requirements in baking have always kept me at bay. Now, if I find a recipe I like, I'll batch-prepare a bunch of dry ingredients of these blueberry protein muffins (or, really any baking recipe) into mason jars.
Each jar includes the dry ingredients for one batch. Then, when you're ready to bake, simply mix-up the wet ingredients and incorporate it into a bowl with the dry stuff from the mason jar. Somehow, that just makes the whole process a bit more approachable, which is a good thing!
I hope you enjoy these muffins as much as we do. I would love to hear from you if you try them out. Feel free to comment here, or tag me on Instagram (@nichole_banducci).xoxo
Print
Blueberry Protein Muffins
Author:

Prep Time:

10 min

Cook Time:

20 min

Total Time:

30 min

Yield:

~12 muffins

Category:

Baked Goods

Method:

Baking
---
1 cup oat flour
1/2 cup almond flour
1/2 cup IsaPro Vanilla whey protein powder (about 1.5 scoops)
1/4 cup sugar (regular or coconut)
1 tbsp chia seeds
1 tbsp ground flax seeds
1 tsp cinnamon
2 tsp baking powder
1/2 tsp baking soda
1 cup fresh blueberries (fold in after everything is mixed together)
1 cup milk (your choice of type)
2 eggs
1 tbsp olive oil
1 tsp vanilla
---
Preheat the oven to 375℉
Line your muffin tin with liners (I like parchment paper liners… no need for non-stick spray)
Combine all of the Dry Ingredients (with the exception of fresh blueberries) into a medium bowl, mix by hand.
Combine all of the Wet Ingredients into a separate small bowl, wisk to incorporate.
Add the wet ingredients to the dry ingredients, stirring till combined.
Fold in the fresh blueberries.
Fill your muffin tin. (I like using an ice cream scoop to ensure they are evenly filled… I often just put one scoop in each, as my kids like smaller muffins)
Bake at 375℉ for 20 minutes, or until a toothpick inserted in the muffin comes our clean.
Remove the muffins from the tin and cool on a rack. You can refrigerate any leftover muffins for up to 5 days. Or, store muffins on your counter in an airtight container for up to 48 hours (depending on how hot your kitchen gets)
---
Notes
Oat Flour: You can make your own by putting dry, raw oats into a blender. I like Bob's Red Mill Gluten Free.
Protein Powder: Please feel free to substitute your favorite powder. This recipe uses about 64 grams of powder. IsaPro is by Isagenix.
Almond Flour: If you choose, you can easily increase almond flour to 1 cup and remove the protein powder.
Chia Seeds: Provides added protein, fiber and healthy omegas.
Ground Flax Seeds: Provides fiber and healthy omegas.