I've tried a number of watermelon salads over the years. They're good, but this recipe for watermelon salad becomes phenomenal. The big difference (from what I've tried before)? Lime juice, olive oil, cilantro and Tajin seasoning. This all comes together into a well-balanced and unique dish you'll be happy to share, but would rather keep to yourself.
What makes it so yummy?
If you Google 'watermelon salad,' the results often include watermelon, mint, feta & cucumber. Don't get me wrong, those are delicious together. Yet, I was feeling like making something a bit different and recently discovered the magic of Tajin seasoning on nearly everything.
This recipe for watermelon salad starts with watermelon and Tajin. Then, naturally added lime and cilantro to complete the Latin flair. Because feta is so often in a watermelon salad, I went along with it.
After mixing that all together, it was good, but a bit too zesty. By adding just a bit of olive oil, it turned the tartness into a wonderful savory dish. Blending the heat from the Tajin, with lime and olive oil, you get mouthwatering deliciousness.
How to serve watermelon salad?
Honestly, I just dumped some in a bowl and ate away. Yet, if you want to get fancy, it's a perfect side dish for grilled foods. Pair it with tacos (especially fish), you'll be delighted!
You could also place the salad directly on top of grilled chicken or fish and call it 'fruit salsa.'
Once stored in the refrigerator overnight, the watermelon ditches much of its water and gives you a wonderful dressing in the bottom of the bowl. For my second night with the salad, I dunked freshly baked bread into the bowl. and let my eyes roll back into my head.
If chopped a bit more, the watermelon chunks could easily stack on top of grilled bread slices as a refreshed take on bruschetta. What a fun summer appetizer!
Print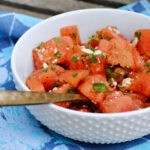 Watermelon, Cilantro, Lime and Feta Salad
---
Description
A bright and refreshing take on a fun salad or side dish. Gets a wonderfully unique profile with cilantro, lime and Tajin seasoning.
It's not spicy as written. Feel free to adjust as needed.
---
4 cups cubed watermelon
1/2 cup chopped cilantro
1/4 cup lime juice (with zest) = 2 limes and zest of one lime
2 tbsp olive oil
1 tsp tajin
1/2 cup feta
---
Simply toss all the ingredients together in a bowl. Best if served chilled.
Can be stored in the refrigerator for up to 4 days. Note that it gets juicer each day, as the watermelon loses some of its water.
---
Notes
The first time I made this, I used a slightly mealy / overripe watermelon. It tasted fantastic in this recipe! Great use for older, forgotten watermelons 🙂