When I was growing up, my mom made homemade taco almost every week. Heck, my mom craved tacos while prego with me, so tacos are basically a part of my DNA. So basically, finding the best taco meat recipe was a rite-of-passage.
As a single gal, I didn't make tacos all that often, because I would simply hit-up taco Tuesday and margaritas at a local bar or restaurant with friends.
Once I got married, I knew I needed to bring-back the tradition of family taco night. At first, my recipe started with a packet of traditional taco seasoning mix. It was good, but the wellness-explorer in me wanted to find an even healthier (lower sugar) option.
My Search for a Healthier Taco Meat Recipe
Sure, it was super easy to dump a packet of pre-made taco seasoning into a pan of cooked meat and add water. Ta-dah, tacos served! Yet, when I was doing Paleo a few years back, I was ultra focused on the amount of sugar I was consuming. Some taco seasonings contain sugar. I'm no longer 'Paleo,' but still try to keep my added sugar levels low.
My recipe development process begun by simply looking at the ingredients of most pre-made taco seasonings. Garlic powder, onion powder, chili powder, salt… works for me. Then, I tried different 'saucy' components like tomato paste, low-sugar ketchup or tomato sauce. A simple can of pure tomato sauce worked well, adding Worcestershire sauce gives it a bit of savory, roasty depth.
Taco Meat Turned into a Taco Feast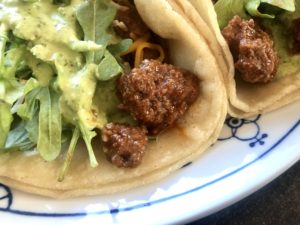 One of my favorite parts of taco night is that each member of my family can customize their meal without much extra work on my part. I simply serve the taco meat with shredded iceberg and shredded cheese. Then, customization ramps up from there.
One likes corn tortillas. Most like flour tortillas. Hubby adds sour cream. I use arugula as my lettuce.
They love it when I take the extra step to cook some flour and corn tortillas in about 1/4 cup avocado oil (in a frying pan). Add the tortilla when the oil starts to glisten in the pan, turning till it is lightly golden on each side. Place cooked tortillas in paper towels to absorb excess oil. Note – the tortilla is not included in the nutritional information provided in the recipe.
If you're preparing tortillas, then you can put a lid on the taco meat and keep it off-heat for up to 15 minutes prior to serving. Just give it a stir before ringing the 'dinner bell.'
Mom-ify Taco Night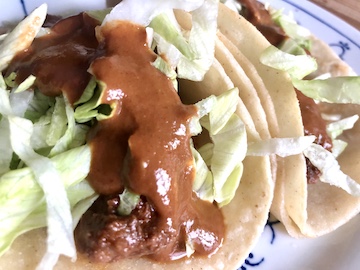 Yes, I built my taco meat recipe to satisfy even the most picky eaters in our family. Yet, mama needs some culinary interest. Typically, my upgrade includes a healthy ingredient that I'm trying to work into my diet. Every week, my taco execution can vary, yet some favorites include; arugula instead of iceberg, adding a healthy sauce (see link below for an ebook with some great options) or adding pickled onions (also in the ebook).
Recently, I started putting a homemade mole sauce on my tacos, which really feels fancy. (see image)
Leftover Heaven: Taco Meat is So Flexible
I truly love having a container of leftover taco meat in the refrigerator. It instantly supports a flavorful meal the next day. Here are some tips to take advantage of this taco meat recipe for days:
Breakfast Scramble: add leftover taco meat to a breakfast skillet. Green chiles and cheddar cheese make this a restaurant-worthy filling meal
Breakfast Egg Cups: there are so many recipes online for egg cups baked in muffin tins. Add taco meat as a great upgrade.
On-the-Go Lunch: for our kids, I'd often heat-up some meat in the morning and place it in a preheated Thermos. Pack it with chips and cheese/lettuce and they are set.
Beefed-up Mac & Cheese: Our girls love mac & cheese. And, I love indulging in what's left in the pan after they are served. Usually, there is about 1/2 cup left and I mix-in leftover taco meat, chopped tomatoes and avocado chunks to give myself a more balanced way to enjoy the cheesy carb delight of mac & cheese.
I sincerely hope you enjoy this recipe as much as our family has through the years. As mentioned above, here's a link to my free ebook, which includes some recipes that would be phenomenal add-ons for your taco night.
Want to snag a copy of the FREE recipe ebook I mention above? It includes 8 healthy recipes, plus a matrix on how to incorporate
them into your everyday kid-friendly family meals. CLICK HERE
Print
Family Favorite Taco Meat Recipe
Author:

Cook Time:

20 min

Total Time:

20 minutes

Yield:

8 servings

Cuisine:

Mexican
---
Description
I started making my own taco meat from scratch during my 'paleo phase.' (Have you ever seen how much sugar is in taco seasoning?!?) Through the years, I kept tweaking my own recipe until I settled on this delicious version.
The whole family loves taco night. I love that I can mom-ify my meal by putting the taco meat on arugula with pickled onions and Cholula®.
This recipe also works great with plant-based or other protein options.
---
2 lbs ground beef
1/4 cup Worcestershire sauce
8 oz tomato sauce
1 tbsp Better than Bouillon
1 tbsp garlic powder
1 tbsp onion powder
1 tsp ground cumin
1/2 tsp ancho chili powder
1 tsp salt
---
Place a high-walled pan on medium heat. (I used a dutch oven.)

Once hot, add ground beef and break it up with a wooden spoon. (great if you can use the same spoon for serving). Keep breaking-up the beef chunks and stirring the meat until it is about 50% browned / 50% still pink.

When the beef it is 1/2 cooked, add Worcestershire sauce and tomato sauce. Then, add Better-than-Boullon and stir to incorporate.

Once the 'saucy' ingredients are mixed-in, add garlic, onion, cumin and salt.
Continue to stir until the meat is completely cooked.
You can serve the meat in traditional taco shells, soft tortillas or even on a salad.
---
Notes
Ground Beef: I love using grass fed & finished meat whenever possible. It is known to have higher omega-3 fatty acids and lower levels of bad fats. Feel free to choose your preferred level of fat content in the meat.
Plant-Based: You can use this recipe with nearly any plant-based option. I love it with 'Beyond Meat.' I've even mixed 'Beyond Meat' with ground beef to boost my family's vegetable intake (shhhh….).
Chili Powder: The roasty profile of ancho chili powder adds phenomenal 'cooked all day depth' to recipes. If you don't have it on-hand, feel free to use cayenne or even a chili powder blend.
Cumin: For years, I made this recipe for years without adding cumin. So, no worries if you don't have it on-hand. Yet… I highly recommend adding it to your spice collection. It's phenomenal for making meat rubs or even adding a bit of a savory note to salad dressing.
Better-than-Bouillon®: This is a beef stock concentrate (aka a 'base') that boosts flavor in so many recipes. (I used to run the MINOR'S® line of professional flavors and sauces, where I first learned about bases and flavor concentrates.) Honestly, I think this concentrate is the secret ingredient that makes my family (and their friends) crave this taco meat recipe.
Too Spicy? This recipe is not spicy, but if it accidentally gets heated, then you can add agave or honey to cut the heat. About 1 tbsp tends to do the trick.
Nutrition
Serving Size:

2 tacos (about 1/4 cup of meat each)