Sometimes mama just wants a little something sweet and chocolatey. Different from what the kids would eat and more than just a dark chocolate bar. Enter Chocolate Avocado Cake Bites…. tah dah!
These little suckers are exactly that: little. But, they sure don't suck. Unsweetened cocoa, almond flour, avocado, coconut oil… time to indulge in little cake bites that contain ingredients you feel good about eating. Even better, they are topped with dark chocolate ganache. (frosting is so 5yo kiddo)
My Path to Finding Chocolate Avocado Cake Bite Perfection
Certainly, there are a lot of avocado cake recipes on Google. Chocolate avocado, as well. Yet, I was looking to put together something that had ingredients that I've been trying to eat more of, while feeling a bit fancy. Give me one of these and a glass of nice red wine and I'm all set after dinner.
That's just about 100 calories for the treat and another 125 for the wine. Heck, both wine and chocolate/avocado/coconut oil are good for you, so who's counting calories, right? But if you are… 225 for super indulgence without feeling stuffed is a win for team mama.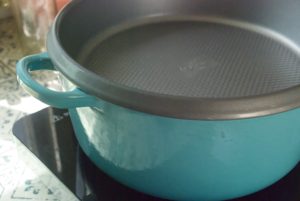 Adding the ganache on top feels a bit extra, but totally worth it in my books. Ganache is surprisingly easy to make and any left-overs can be made into truffles. This was my first time trying it and it came out great. I don't even own a double boiler. Instead, I placed a Target cake pan on top of my dutch oven. Having about 2 inches of boiling water was just enough to slowly melt dark chocolate with the water and cream.
Focusing on Healthier Ingredients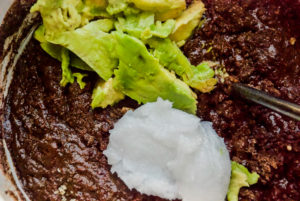 Dessert is just dessert, right? Well…. not really. I figure that as a mama we've got enough stress on our bodies and minds that we truly should focus on maximizing our nutritional density within everything we eat.
The good news is I'm not asking you to gnaw on kale for dessert. (except, I do like kale) Instead, these Chocolate Avocado Cake Bites give you good fats, fiber, antioxidants, and protein. Even better, they're delicious out of the freezer or fridge. You can hide them in a container marked 'healthy' and your family will never touch them!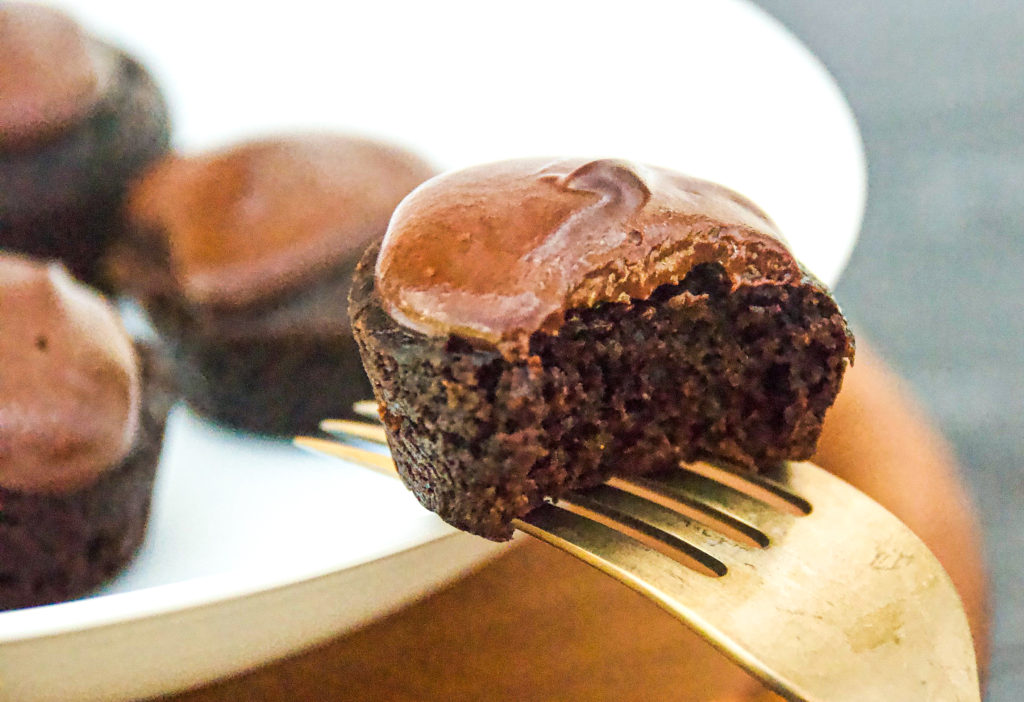 Print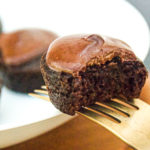 Chocolate Avocado Cake Bites
Author:

Prep Time:

10 minutes

Cook Time:

11 minutes

Total Time:

21 minutes

Yield:

48

Category:

Dessert

Method:

Baking
---
Chocolate Avocado Cake Bites:
1 cup flour (white, whole wheat or oat)

1 cup almond flour

1 cup coconut sugar

1/2 cup unsweetened cocoa powder

1 tsp baking powder

1 tsp baking soda

3/4 teaspoon salt

3/4 cup milk

1 avocado

1/4 cup coconut oil

2 large eggs

2 tsp vanilla

1/3 cup mini semi sweet chocolate chips
Ganache:
2 bars of 72% Cacao dark chocolate (I used Ghiradelli, which are 90g each)

1/2 cup water

1/4 cup heavy cream
---
Chocolate Avocado Cake Bites:
Preheat oven to 350 degrees. Spray mini muffin tin with nonstick spray

Mix together the dry ingredients: oat flour, almond flour, coconut sugar, cocoa powder, baking soda, salt

Add eggs, milk and vanilla to the bowl. Mix by hand.

Add avocado and coconut oil to the bowl. Use an electric hand mixer to fully break-down and incorporate these ingredients. It's OK if the coconut oil is solid… the electric mixer will work it in.

Hand-mix in the chocolate chips

Scoop batter into mini muffin tins, about 1/2 full. I used a #100 small scoop melon baller to fill the tins.

Bake for 11 minutes or until a toothpick inserted into the center of the muffin comes out clean. Remove from the oven and allow to cool before removing from the muffin tin.
Ganache:
You can start working on the ganache while the bites are baking. Yet, make sure that the bites/mini muffins are cooled down before putting the ganache on top.
Add about 2″ of water to your larger pot and turn heat on to bring it to a boil. Once boiling, reduce heat to medium-low and place double boiler on top.
Chop the chocolate bars into small 1/4″ chunks
Add the chocolate and water to the double boiler and stir frequently as it melts.
Once fully melted, slowly incoroprate the heavy cream. You can also use non-dairy milk or coconut cream. (I've even seen recipes for just using water for the ganache)
When the ganache is done, I keep the double boiler on the pot, but turn off the heat. The steaming water will continue to keep the ganache warm as you scoop it onto the chocolate avocado cake bites.
Spoon ganache on top of each bite. I used the #100 melon baller again, which worked great.
Let the bites cool completely. Can store covered on the counter for a few days, in the fridge for up to five days or in the fridge for a few months.
As previously mentioned. If you have any extra ganache, you can refrigerate it and then use it to make chocolate truffles later. (As if you really have chocolate left… that and extra red wine. Right.)
---
Keywords: Avocado, Chocolate, Coconut Oil, Almond Flour, Oat Flour