Ah, comfort food. The perfect companion to cold weather, stress, and our monthly cycles. (yup, I went there) When I was eating meat, bolognese was one of my favorite things to order at a restaurant. Talk about warm, delicious depth of flavor. Now that I'm plant-based, I've discovered that lentils can give you a similar savory indulgence. Hence, this deliciously easy lentil bolognese recipe.
When I first stopped eating meat, I wanted to make sure that I got enough protein in my diet. Lentils were a key item to increase in my diet. On nights I made spaghetti and meatballs for my family, I cooked-up some lentils on the side and added them to my marinara sauce. OMG… I was blown away by the savory goodness lentils can bring to pasta sauce.
Healthy Ingredients Make Lentil Bolognese Extra Special
Why lentils? They're nutritional powerhouses with a host of benefits:
Protein – Lentils are one of the highest protein beans (second only to soy).
Fiber – a serving of lentils gives you a whopping 35% of your RDA of fiber.
Micronutrients – with high levels of potassium, iron, and folate, lentils have some phenomenal nutrients… especially for women.
The great thing about this lentil bolognese recipe is that every ingredient has purposeful, nutrient-dense properties.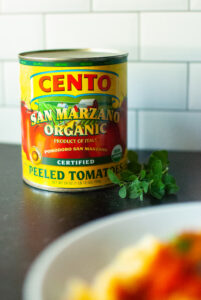 Canned San Marzano Tomatoes – one of the healthiest varieties you can choose. Perfect for winter recipes when fresh tomatoes are not an option.⁠ You can get these at nearly any grocery store. I figure if you're going to do canned, you might as well get the best… especially with a tomato-based sauce.
Caramelized Onions & Garlic – super good for your gut health and immune system. By caramelizing them in olive oil at the beginning of the recipe, you get an extra sweet & rich flavor profile.⁠
Oregano – a wonderfully healthy herb that is an antibacterial agent, full of antioxidants and valuable phytonutrients. I use dried in the cooking process and then garnish with fresh from my garden.⁠
Print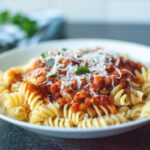 Easy Lentil Bolognese: My New Cozy Comfort Food Recipe
Author:

Prep Time:

5

Cook Time:

35

Total Time:

40 minutes

Yield:

6 servings

Diet:

Vegan
---
1/4 cup extra-virgin olive oil

1 medium white onion, peeled and diced

3 cloves garlic, finely chopped

1 teaspoon sea salt

1/4 teaspoon crushed red pepper flakes or to taste

1 cup uncooked lentils, thoroughly rinsed and picked through

1 (28-ounce) can crushed San Marzano tomatoes

2 cups vegetable stock or water
---
Heat olive oil in a large pot over medium heat.

Add onion and cook until translucent, making sure to not burn it.

Add garlic, salt, and red pepper flakes, cook until the garlic softens, stirring frequently.

Add lentils, tomatoes, and water. Stir to combine.

Increase heat and bring the sauce to a rapid boil. Then, reduce heat, cover, and simmer for 30 to 35 minutes or until the lentils are tender.

Serve over pasta, or scoop onto crostini and eat like warm bruschetta
---
Notes
For my Vegan friends out there… I even used Vegan parm in my version. Yum)⁠
You can cook the sauce in just one pot. Comes together in about 35 minutes.⁠
If you have meat-lovers in your family, you can easily substitute ground beef in the recipe. I'd add it right after the onions and garlic are caramelized.⁠
If you have both plant-based and meat-eaters, make the sauce without the lentils. Cook the lentils and meat separately and then add to the sauce for each person. (I'd rather take an extra step to adjust to folks' desires vs. make food a drama point in our day.)⁠