Want to enjoy a healthy strawberry crisp cereal for breakfast? This easy-to-make recipe is delicious cold, hot or over yogurt as a parfait.
To be honest, this recipe started as a total mistake. I was trying to make moist oatmeal bars and ended up with dry, crispy bars. Because I don't like wasting food, Strawberry Crisp Cereal was born.
Here's the story. I was developing a Strawberry Oatmeal Bar recipe for RAISE Magazine and my first round turned out wrong. The result of the first round didn't taste bad; it was just not as chewy and moist as I intended.
They were dry because I tried to short-change the amount of brown sugar in the recipe. (I'm always trying to cut-out sugar.) Yet, it was still pretty delicious. So, instead of throwing away the batch, I tossed it in the fridge and kept on working.
After finishing and photographing the final (phenomenally moist & delicious) strawberry oatmeal bars, I remembered their crispy cousins in the fridge.
"What if I put them in a bowl with soymilk," I asked?
OMG. What was once a crispy mistake became a delicious homemade strawberry crisp cereal. Simply take about 1/8 of the recipe and crumble it into a bowl. Then, add your favorite milk.
In cooler weather, you can microwave the strawberry crisp cereal for 30 seconds prior to adding the milk. You'd swear you were eating dessert for breakfast!
It is also fantastic crumbled over yogurt for a new twist on a homemade parfait.
To keep things healthy, I developed this recipe using a strawberry chia jam: strawberries + chia + lemon juice. (Trust me, you'll want to make an extra batch of the jam to keep in the fridge.) You can also substitute your favorite fruit in the chia jam. Or, in a pinch, use store-bought jam.
Most importantly, I hope you enjoy!
Print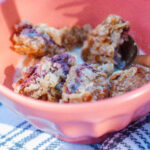 Strawberry Crisp Cereal
Prep Time:

10 minutes

Cook Time:

35 minutes

Total Time:

45 minutes

Category:

Breakfast

Method:

Baked
---
Bar Base:
1 stick (8 tbsp)           salted butter, softened
2 cups                         rolled oats (not instant)
1 cup                           whole wheat flour (white flour works, too)
1/4 cup                       brown sugar (pressed)
1 tsp                            baking powder
Strawberry Filling:
2 cups                         frozen or fresh strawberries
2 tbsp                          chia seeds
1 tbsp                          lemon juice
---
Strawberry Filling:
Put strawberries into a saucepan over medium heat

Soften for about 5 minutes, then smash with a potato masher or wooden spoon


Once mashed strawberries reach your desired consistency and being to bubble, then remove

from heat

Stir-in chia seeds and lemon juice

Cool for about 30 minutes. The chia seeds will thicken the strawberries and create a jam-like consistency.
Bars:
Preheat oven to 350-degrees

Prepare an 8×8 baking dish with either parchment or non-stick spray/butter

In a large bowl, mix together butter, oats, flour, brown sugar and baking powder. Once incorporated, the ingredients will be crumbly and slightly moist

Spoon just over half of the mixture into the 8×8 pan and press down firmly

Spread 1 cup (8oz) of strawberry jam over the pressed bar base

Sprinkle remaining mixture from the bowl over the jam layer. Press down lightly, but don't push through to the jam layer

Bake for 35 minutes in a 350-degree oven

Remove and let cool about 15 minutes

Crumble about 1/8 of the recipe into a bowl.

Top with your favorite milk.
---
Notes
Store uneaten bars in the refrigerator. 
When ready to eat more, you can crumble directly into a bowl or over yogurt.
In cooler weather, you can microwave the strawberry crisp cereal for 30 seconds. Then, pour milk over it for a dessert-like treat.
Keywords: Strawberry, Oatmeal, Breakfast, Chia