What's the #1 tactic I use to make sure I'm eating healthy? Keeping my fridge stocked with pre-made meals, dips/spreads and ingredients. My absolute favorite fridge staple recipe is homemade Pesto. I have tons of versions, but this Walnut Pesto recipe is phenomenal!
I like to have lists of key ingredients that support important health benefits. These lists include: gut health, hero ingredients, beauty pantry, and comfort & calm. This recipe rocks the beauty pantry category with skin-nourishing ingredients like spinach, walnuts, nutritional yeast and olive oil. You can also toss-in some avocado if you have one on hand. 🙂 Or, boost beauty benefits by topping with pumpkin seeds.
Walnut Pesto on Everything, Please!
When I have this Walnut Pesto recipe in the fridge, I want to put it on EVERYTHING possible! It's something my body craves, so I'm glad it lasts for days. Naturally, adding it to pasta gives a fantastic nutritional boost. Yet, you can try it on toast, veggies, tofu, chicken, meat….get creative! (I've even tossed it with popcorn.) This recipe is also wonderful with zoodles!
The best thing is that when you're super hungry and want to make sure you're eating healthy and/or getting the nutrients your body needs, you can grab your pre-made container of walnut pesto and add it to whatever else you have available.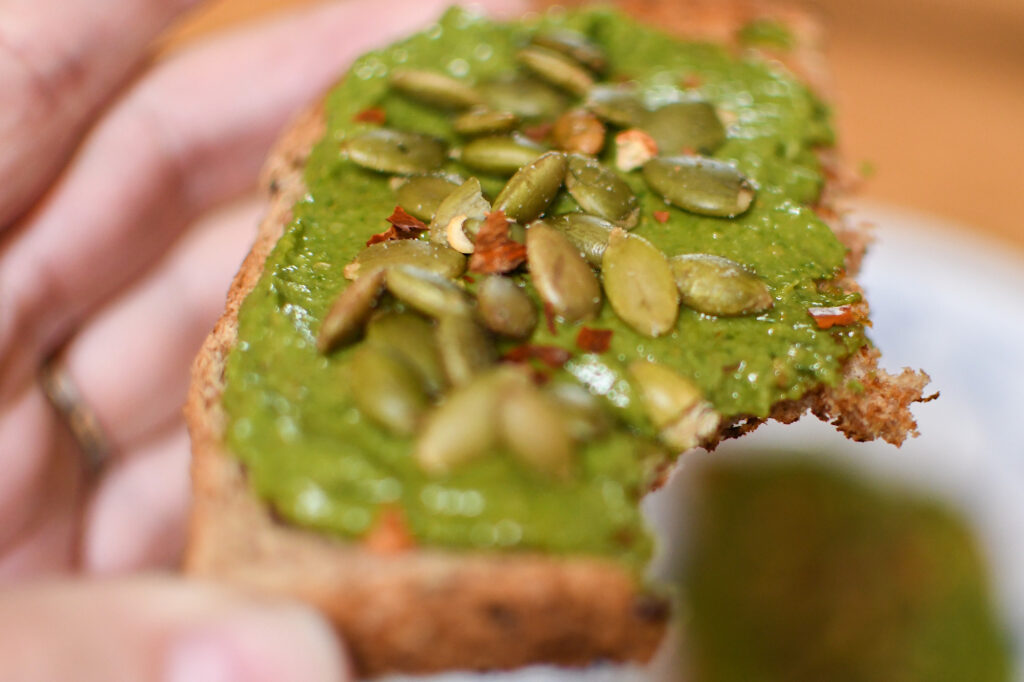 Simply Blend & Serve: Can't Get Much Easier
This Walnut Pesto recipe is about as easy as it can get. You simply dump all the ingredients into your blender or food processor and blend. (I like to keep mine a bit chunky, so I pulse till fully incorporated.)
You can follow the recipe as-is, or add ingredients you have around the house, Other great add-ins include:
Avocado
Fresh Herbs
Arugula or Basil instead of Spinach
Chili Peppers
Fresh Garlic
Onion
Parmesan Cheese instead of Nutritional Yeast
Sundried Tomatoes
White Wine
Garbanzo or White Beans
Of course, the recipe is fantastic as-is.
Print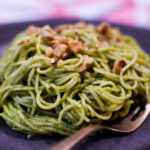 Walnut Pesto
Author:

Prep Time:

10

Total Time:

10 minutes

Diet:

Vegan
---
Description
There are so many ways to make pesto. I love this simple recipe because it just has a handful of ingredients focused on boosting your skin health. Spinach, walnuts, olive oil and nutritional yeast are all known to increase the quality of our skin. I created this pesto recipe to give you a go-to beauty treat you can have on-hand in your fridge.
Many pesto recipes feel like they're dripping in oil. Not this one. You get the benefits of olive oil without having it drip from your chin with each bite. (We've all been there, right?) 
---
5 oz fresh spinach

1/2 cup nutritional yeast

1/2 cup walnuts

Juice of one lemon

1 cup olive oil

1/2 tsp salt

1/2 tsp pepper 
---
Add all of the ingredients to a blender or food processor. Blend till almost smooth… leaving a few chunks gives a great consistency.
Toss about 1/4 cup with warm pasta and garnish with walnuts and red pepper flakes. You can vary the amount used based on how much pasta you're eating/serving.
Or, use the finished pesto to spread on toast, top tofu or meat, or as a dip for veggies.
---
Keywords: Walnuts, Pesto, Spinach, Nutritional Yeast