When our kiddo begs to get yet another pumpkin this time of year, I always excitedly say "YES!" Sure, silly jack-o-lanterns are fun and festive decor. Plus, if they avoid the carving knife, they'll transition nicely till Thanksgiving. Yet, I'm even more thrilled about digging through the gooey guts to make the best baked pumpkin seeds.
Sure, making pumpkin seeds isn't rocket science. Have you found the best baked pumpkin seeds yet? Trust me, I've got an extra step that makes them phenomenal. Sometimes, when you make pumpkin seeds, they can turn out a bit tough. Or, sadly, not crunchy. Come on… they've gotta be salty, flavorful, and crunchy!
The Secret Behind the Best Baked Pumpkin Seeds
This recipe contains one extra step, but it is quick and totally worth it. Instead of just cleaning the seeds, seasoning them, and dumping them on a tray to bake, I also boil them in super salty water. Simply add 1/4 cup of salt to 2 cups of water and bring it to boil. Dump in the seeds and boil them for about 5 minutes. You'll know they're ready when the seeds start to get saturated (darker).
Once the seeds are done, add them to a baking sheet. You can simply sprinkle with about 2T olive oil and a 1T mix of your favorite seasonings. I love using garlic powder, onion powder, and cumin. You don't need more salt… you already added that during the boiling process. Mix the seeds, oil, and seasoning on the tray and add to a 300-degree oven.
There is a wide variety of oven temperature recommendations in pumpkin seed recipes. You'll see some as-low-as 250-degrees and others up to 400. The higher the temp, the shorter the cooking time. I like 300 for about 35 minutes because this low & slow method helps ensure your seeds are crispy throughout.
Looking forward to hearing what you think about the recipe. I'm confident they may be some of the best baked pumpkin seeds you've ever had!
Print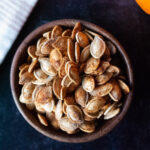 The Best Baked Pumpkin Seeds
Author:

Prep Time:

15

Cook Time:

40

Total Time:

55 minutes

Category:

Snacks

Method:

Baking
---
Description
I love pumpkin seeds. Yet, I'd always been disappointed with the options. The ones you can get in a convenience store are super crispy, but lack flavor beyond salt. Traditionally, I've baked seeds at home with tons of flavor, but they lacked the crackle and deep-down saltiness of the standard bagged seeds.
A few years back, I'd read somewhere that boiling them in salted water can help. (Wish I could remember where I saw this because I'd happily source them here… but it was well before the internet and likely from a magazine scrap.)
OMG… this tip changed how I enjoy homemade pumpkin seeds for life! Even better, my husband, stepdad, and kiddos all love how they turn out. Not spicy, but flavorful. Salty, but not overly. Simply just right.
---
Seeds from

one

pumpkin (about

1

–

2

cups)

1/4 cup

salt (to boil the seeds)

2 cups

water

1

T seasoning mix (I used a mixture of garlic powder, garlic salt and cumin)

2

T olive oil
---
Preheat oven to 300-degrees
Pull fresh seeds from a pumpkin. Ideally, one that was cut for a jack-o-lantern or making a pumpkin-based recipe. You'll get anywhere from 1-2 cups per pumpkin. Of course this, varies.
Place seeds in a bowl of water. Wash the seeds by rubbing them between your hands. The pulp and goo will fall to the bottom of the bowl and the seeds will float.
Use your hands to remove the floating seeds from the cleaning bowl. Place them directly into a pan with 2 cups of boiling water and 1/4 cup salt
Boil the seeds for about 5 minutes. You'll notice that they will become slightly saturated / darker. That means they're done.
Strain the seeds from the water and place directly onto a baking dish.
Drizzle the seeds with 2T olive oil and sprinkle with about 1T seasoning mix
Place into 300-degree oven for approximately 35 minutes, or until the reach your desired level of 'toast'
Let cool & enjoy!
---
Notes
Feel free to adjust the seasoning to fit your taste. The recipe recommends about 1T of seasoning total, so you can play a bit. Of course, I'd LOVE to add a bit of ancho chile powder, but my family would freak out. 🙂
You can also use butternut squash seeds (or really, any squash) with this recipe.
Typically, we eat these seeds straight, but they're also delicious added to salads or sprinkled on top of pumpkin muffins.
Keywords: Pumkin Seeds, Snacks, Holiday
If you're looking for another healthy snack recipe, try my super craveable snack bars I wrote for RAISE Magazine:
Healthy No-Bake Oatmeal Bars
Or, something indulgent:
Chocolate Avocado Cake Bites