Sometimes simply feeling like you're drinking alcohol is enough. Sipping on a non-alcoholic cranberry gin and tonic using 'Drink Monday' Gin does the trick. Or, as Drink Monday puts it, "Full of spirit. Free of Alcohol."
As I decided to give some of the new non-alcoholic spirits a test, it felt like gin and tonic was a great place to start. (Especially since NOBODY is going to mess with my tequila.) Gin has such a distinctive herbal characteristic and tonic is basically the cilantro of cocktail mixers… either you love it or hate it.
I chose a cranberry version since I currently had some leftover cranberry syrup from my favorite Roasted Butternut Squash & Apple Salad recipe (see post). This syrup is phenomenal in cocktails (margaritas, champagne, and… gin drinks)
You may be wondering… are those non-alcoholic spirits worth the cash? I think they are if you are setting-up a fun bar with non-alcoholic options. Especially key for folk that will be driving. Given our Covid times, you may be inclined to mix-up a few cocktails before 5 p.m. These spirits will let you have a cocktail experience without smelling like a bar.
Because I truly love the idea of fun non-alcoholic cocktails, I'll be playing around with some make-at-home herbal options. For example, making a tea out of juniper berries and adding that to tonic and cranberry.
Yet, until then….it could be fun trying something like Drink Monday Gin in your favorite gin and tonic recipe. (not an ad)
(If you're interested, here's a link to my recent article about trying to reduce my alcohol consumption.)
Print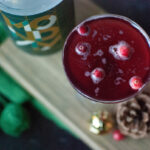 Cranberry Gin and Tonic: My Ultimate 'It Tastes Like it Has Alcohol' Cocktail Hack
---
3 oz of gin

1 tablespoon of

cranberry syrup

(or, one shot of cranberry juice) – see instructions below

3 oz tonic water

ice (to serve on-the-rocks)
---
For Cranberry Syrup:
In a small sauce pan, place 2 cups cranberry juice, ½ cup red wine or port, 2 TBLS sugar and reduce on medium heat to a syrup consistency. This makes about 1/3 cup cranberry syrup.
---
Notes
You can serve this on-the-rocks or as a martini. The cranberry syrup gives it a great body that works either way. Cheers!