Looking for a fall or Thanksgiving side dish that goes beyond the ordinary? This Roasted Butternut Squash & Apple Salad will fit the bill. It dishes-up a perfect balance of roasted fall comfort, with a tart cranberry vinaigrette.
As a bonus, it is served a room temperature, so it doesn't add complexity to meal prep. (a winner in my books) Plus, since it is so unique, it doesn't have to 'de-throne' any other family favorite recipes at the table.
My mom got this family-favorite recipe from a Chef Jose Sanchez. It is my FAVORITE part of the Thanksgiving table, so I will be eternally grateful to him!
This dish is also fantastic beyond Thanksgiving. In fact, after I made the recipe for this post, I stored the extra in the fridge and enjoyed it as a lunch salad for several days. Roasted butternut squash pairs extremely well with meat, but is also fantastic piled on-top of baby arugula.
(Note – if cutting into a butternut squash sends you into kitchen chaos, check out this post by the Minimalist Baker.)
Recipe Highlights
You'll want to cube the squash, apples and onions first thing. Get them in the oven so you can work on the other elements.
Next, start the cranberry syrup, which will simmer down in the background (keep an eye on it, but you don't have to stir constantly if it's at the right temperature)
Chopping the toasted pecans and herbs will be an olfactory delight… I think I could do that forever! So basically, I'm encouraging you to enjoy 🙂
Once the roasted squash & friends are out of the oven and cooled-down to room temperature, you can toss all the ingredients together and enjoy right away. If you haven't tried roasted squash, apples or onions together, give-it-a-go before mixing-in the other ingredients. The combination is really incredible and unique.
BONUS… try dipping a whole pecan or a chunk of Manchego into the cooled cranberry syrup. YUM!
Print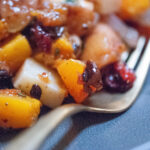 Roasted Butternut Squash & Apple Salad
Author:

Prep Time:

15

Cook Time:

45

Total Time:

1 hour
---
Description
You've gotta try this perfect, unexpected fall / winter salad. It's a family favorite at Thanksgiving, but honestly… I can sit down with a plate of it at any time. Roasted squash, onions and apples provide a uniquely delicious base. Highlighted by tart cranberries, crunchy pecans and salty/sweet manchego cheese. The best part? You can make it ahead and serve it room temperature. Of course, it's also delicious straight from the fridge.
Recipe Credit: Chef Jose Sanchez, who graciously shared the recipe with my mom.
---
1

small butternut squash, peeled and cubed

1

large sweet onion, peeled and cut into wedges

4

fuji apples, peeled and cut into wedges

1 cup

toasted pecans, chopped

1/2 cup

dried cranberries

1/2 cup

manchego cheese, diced

2 tbsp

apple cider vinegar

3 tbsp

extra virgin olive oil, plus additional for roasting squash, onion, and apples

1 tsp

chopped sage

1 tsp

chopped parsley

1 tsp

pumpkin pie spice (or cinnamon and nutmeg)
salt & pepper
Plus… Cranberry Syrup
2 cups

cranberry juice

1/2 cup

red wine

2 tbsp

sugar
---
Preheat oven to 350 degrees
In a baking pan, toss the first three ingredients with the olive oil and pumpkin pie spice. Bake in a 350-degree oven for 45-60 minutes till the squash is barely fork tender, but not mushy.
Let the roasted ingredients cool before adding other ingredients
Add the cooled roasted ingredients, plus chopped pecans, cranberries, manchego cheese, sage, and parsley to a large serving bowl
Drizzle with about 2 tablespoons of the cranberry syrup (see below) and stir to incorporate
Salt and pepper to taste
CRANBERRY SYRUP:
Place cranberry juice, red wine and sugar in a small sauce pan and reduce on medium heat to a syrup consistency. (You'll end up with about 1/4 cup of syrup.)
---
Notes
You can serve the salad right away, or store in the refrigerator for up to three days. Longer than that, the manchego cheese starts to break down and the salad loses it's complexity.
The recipe gives you about 2 tbsp of extra cranberry syrup. This is GOLD in a margarita or a glass of bubbly during the holidays.
Here are a few other of my favorite recipes for fall:
My new Healthy Homemade Pumpkin Spice Latte
The Best Baked Pumpkin Seeds