It's funny. I love pumpkin pie, but I've never ordered a pumpkin spice latte. (gasp) So, this season I decided to give it a try with a homemade pumpkin spice latte. Heck… pumpkin is excellent for you, as is cinnamon and soy milk.
After an extra-long, ice-cold morning hike recently, I was inspired to develop this recipe. I came home rosy-cheeked and a bit more hungry than I usually am in the morning. My typical cup of black coffee wasn't going to be satisfying. I wanted something more substantial… something that screamed 'cold late-fall morning.'
For some reason, pumpkin spice is what I was craving, so pumpkin spice was what I was going to try. I happened to have a can of pumpkin in the cupboard (because Fall) and knew I could make a homemade pumpkin spice latte work with the other ingredients I had on-hand. My goal was to make it as healthy, yet indulgent as possible.
Here's my thought process around ingredients:
Pumpkin – I used canned pumpkin for this recipe. This gives you great nutrients, plus added fiber. If you're cautious about cracking open a whole can, just note that you can store it in the fridge for a few days after opening. Plus, you can add it to baked goods and a phenomenal face mask (with honey). Win-win if you ask me.
Cinnamon – This yummy spice is an excellent anti-oxidant and anti-inflammatory. Plus, it is believed to reduce blood sugar levels, which is great since this recipe does have sugar. I didn't have Pumpkin Spice Mix at home and feel the recipe doesn't really need it.
Soy Milk – You can truly use the milk of your choice in this recipe. I've ditched dairy for some time now, so soy was a natural choice. Soy tends to 'froth' better than other plant-based milk. Plus, soy is great for nourishing your skin and supporting your body's stress response via phytoestrogens.
Brown Sugar – Of course, I tried this recipe without any sugar and it just wasn't right. The sugarless versions missed a certain flavor depth, plus didn't froth as well. I went with brown sugar because of the roasty notes. Of course, feel free to try your sugar of choice. Coconut sugar could be delicious, as well.
Soluble Coffee – I've since made this recipe with regular coffee (I don't currently have an espresso maker) and missed the richness you get from a more concentrated brew. Plus, soluble coffee can get super foamy when whisked, so that's a big win.
Give it a try and let me know what you think!
Extra bonus: if you want, you can leave-out the coffee and just foam-up the heated soy milk and other ingredients. That's actually quite divine. (oooohhh, now I want to try it without the coffee, but instead, a shot of kahula. You can slip the shot in after your foam-up the pumpkin spice soy milk.)
Print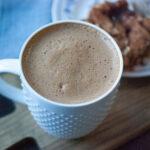 Homemade Pumpkin Spice Latte
---
2 Tbsp brown sugar

1/2 tsp cinnamon

2 cups soy milk

3 Tbsp canned pumpkin

1 Tbsp NESCAFÉ (or more to taste)

a small electric wire wisk (if you want foam)
---
Add soy milk, brown sugar, cinnamon and pumpkin to a sauce pan
Warm-up on medium heat, stirring regularly to incorporate as the ingredients come to a simmer (light bubbles, but not boiling… you don't want to scald it)
Take a moment to enjoy the wonderful aroma (yes, go ahead… it's part of the experience)
Ladle the hot liquid into two small mugs or one large one, leaving about 1/2 – 1 inch space at top for foaming action
Submerge the electric wire wisk and blend until you get the right level of foam; taking care not to spill the hot latte on yourself. I like to keep the wisk head submerged and then move it up and down in the drink about without removing it from the liquid.
---
Like pumpkin? Try my favorite pumpkin seed recipe
.