I'm constantly looking for ways to get more vegetables into my diet. These sweet potato fritters of course give you phenomenally healthy sweet potatoes. Yet, they're also chock-full of greens (parsley), protein (almond flour & egg), and flavor (raw shallots & lemon).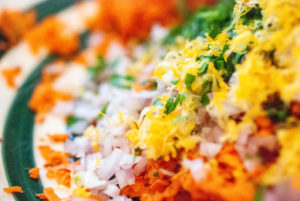 After trying many different versions of this recipe, I finally nailed my goal of a bright and fresh fritter. Cooking the ingredients in advance made the flavor too 'muddy.' Frying them was a total disaster, plus added tons of extra calories and fat. (I can't figure out the frying thing… I always make a mess and burn stuff.)
Instead, simply mixing all of the raw ingredients together and then baking for a quick 14 minutes gives you perfection. The patties are slightly crisp on the outside, but still super fresh and flavorful. Plus, the bright colors of the sweet potatoes, shallots, lemon zest and parsley just holler "I'm healthy"!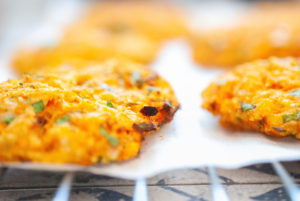 Why Sweet Potatoes?
Any chance I get, I try to substitute these brightly colored potatoes into my eating plans. Not only are the "nutritional superstars," but they provide a great, fresh depth of flavor to most dishes.
"Sweet Potatoes are nutritional superstars."

Center for Science in the Public Interest (link)
Sweet potatoes get their gorgeous bright color from beta carotene, a superpower antioxidant that helps prevent oxidation in your body. (read: stops cellular aging and improves skin) In addition, they are packed with two forms of fiber: soluble and insoluble. Both of these fibers do wonders for your gut.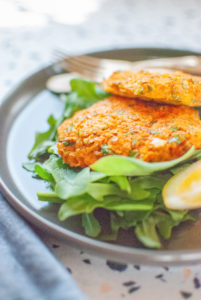 Menu Planning
If you've never had a 'fritter,' you may be wondering "how in the heck do I eat these"? Here are a few delicious ideas:
On top of a salad
Substitute for a veggie patty on a burger
As your veggie side dish (would be great with roasted chicken or fish)
Crumbled into a pasta salad
Toss them on the grill for a new veggie burger option
Simply enjoy Sweet Potato Fritters by themselves 🙂
Print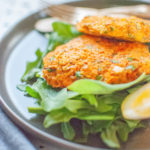 Sweet Potato Fritters with Shallots, Parsley & Lemon
Author:

Prep Time:

15 min

Cook Time:

14 min

Total Time:

29 min

Yield:

8

1

x
---
Description
These sweet potato fritters are perfect on top of a salad or as a fresh update to veggie burgers. Even after baking, the ingredients stay vibrant and fresh with a wonderful texture.
---
1

medium sweet potato (

two cups

shredded)

2

eggs (whisked)

2/3 cup

almond flour

1 tsp

garlic powder

1

chopped shallot

1/4 cup

chopped parsley

1/2 tsp

salt
zest of

one

lemon (about

1 tsp

)
Juice of

one

lemon
---
Preheat your oven to 400 degrees and line a baking sheet with parchment paper
As you prep the ingredients, you can place them directly into one large bowl
Shred one medium raw sweet potato. You can use a box grater or food processor. (I like the hand-grater because it counts as exercise…)
Chop 1/4 cup parsley (about a handful of parsley tops before chopping)
Chop one medium shallot
Zest one lemon
Add the above to a large mixing or pasta bowl
To the bowl, also add 2/3 cup almond flour, 1 tsp garlic powder, 1/2 tsp salt and juice of one lemon
Crack both eggs into a separate small bowl and whisk them
Add whisked eggs to the large bowl
Mix all the ingredients, making sure to fully incorporate the egg
Create 'patties' with the mixed ingredients using about 1/3 cup of mixture per patty. The patties should be about the size of your palm and 1/2 inch thick.
Place patties onto the parchment lined baking sheet
Bake in a 400 degree oven for 14 minutes
Remove patties and place on a rack to cool. I like to sprinkle a bit more salt on top right after they come out of the oven.
You can eat them right away or, serve chilled. Store them in your refrigerator for up to five days, or place them in the freezer.
---
Keywords: Sweet Potato, Parsley, Almond Flour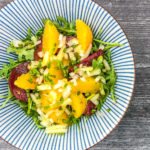 Looking for another fresh, healthy vegetable-based recipe? Try my favorite Beet, Orange & Arugula salad.